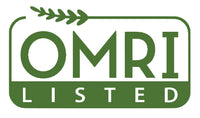 We are now OMRI Certified Organic!
The following product may be used in certified organic production or food processing and handling in accordance with the Canadian Organic Standards.
View Certificate
Hello! My name is Dwight Young,
and I am the proud owner of Growers Delight, a family-run business started in 2017. It all started one Sunday afternoon when my wife, Iris, came home asking me to help unload the car. To my disappointment, in the trunk lay 5-6 large bags of all sorts of fertilizers and I thought there MUST be a better way! 
After months spent working with experts in horticulture and agriculture, I am pleased to announce our newest product, the fifth generation of Growers Delight Soil Activator! When compared with other industry leaders our users have experienced near endless improvements to their gardens such as earlier blooming, brighter colours, and more flowers with longer flowering periods to name a few. When applied to vegetables there is a distinct increase in robustness, with far less pests and disease getting in the way of healthy growth and with continued use, fruit trees have even been shown to blossom and bear higher quality, tastier fruits! Growers Delight has been shown to reduce the effects of umbilical rot, brown spot, and white rust, effectively eliminating them from your garden. When used for lawn care, Growers Delight promotes the development of a good root system making for dense, green grass all while preventing chafer beetle eggs from hatching. Unlike other soil activators, Growers Delight is perfect for even novice growers as in addition to its ability to stop common disease and pest problems, it will not cause seedlings to burn, meaning you can use it from bulb to blossom. For a better, brighter garden there is no other option than Growers Delight.
After 1 months of waiting to become certified organic, it's finally happened! This is a huge step for Growers Delight, and we are excited to share with all who love growing and gardening! Check us out: https://organicdirtsupplements.ca/.
With the price of goods everywhere on the rise there's has never been a better time to start growing your own healthy organic fruits and vegetables or create your own beautiful flower gardens! With Growers Delight Soil Activator we can make that dream a reality. 
Sheila From Williams Lake
Hi Dwight,Thanks for the phone call.  All the plants you see here were planted late due to our cold wet spring.  I did not use fertilizer of any kind for my plants this year, just the Grower's Delight.  I look forward to using it again as my garden clearly grew so much better than past years.  It's really helping the soil and I'm working on improving the soil condition as an ongoing project for the next few years.Best wishes
Growers Delight Exclusive Organic Blend 4-2-2 with Humic
Growers Delight new organic blend 4-2-2 comes in a granular formulation which can be used as a fertilizer for organic production in soil/soilless medium for all plants. It is enriched with calcium, humic acid & penergetic. All nutrients are in their naturally occurring form to provide continuous slow-release nutrition. This blend is also an ideal fertilizer for seedlings and as an additive for soilless mixes.
The Benefits of Growers Delight Granular Soil Activator Include.
* Increases microbial activity and organic matter
* Improves soil structure & nutrient retention
* Promotes strong root structure
Guaranteed Minimum Analysis
*Total Nitrogen (N) 4.0%
*Available Phosphoric Acid (P2O5) 2.0%
*Soluble Potash (K2O) 2.0%
*Calcium (Ca) 5.5%
Product Characteristics
*Appearance: Granular
*Bulk Density: 40 lbs/ft 3
Soil Application:
*For band application use 30-35 kg/1000 sq. metres (120-140 lb/acre)   
*For soilless mix use 3-4 kg/cubic metre
Read More
What Makes Humates So Effective
Mineral soil testing shows a lack of trace minerals in most soils. Understanding that the soils are mineral deficient, we do know that all plants, vegetables & lawn do need some minerals. Nitrogen, Phosphorus, Calcium and Potash & Humic acid. Having these minerals present for the plants provides essential nutrients that can lead to healthier soil & more productive growth.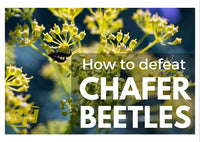 CHAFER BEETLE PROBLEM?
Adult European chasers are tan or brown beetles. The chafer grubs (larvae) which cause most of the lawn damage, are soft & white and C-shaped with tan coloured heads and six prominent legs.
The chafer beetle completes their life cycle in one year which can lead to rapid population increases. Adult beetles emerge from the soil in June and mate in swarms at dusk. In July, females lay up to 20-30 eggs in the soil. The eggs hatch in about 2 weeks and the small grubs begin to feed on grass roots. Feeding continues throughout the winter until they pupate in May.
HOW DO WE CONTROL THEM?
Read More
Our product is a soil treatment that stimulates the soil biology
In healthy soil, there are more living organisms in a tablespoon of soil than there are people on the earth.  Healthy soil is teaming with bacteria and fungi. These bacteria and fungi are essential to allowing plants to access and utilize the nutrients necessary for life.Our product naturally stimulates the bacteria and fungi causing them to flourish and multiply. The result is stronger and healthier plants that can result in better yields.Our Soil Activator supplies trace mineral content with the Humates and helps the naturally occurring soil biology by making the nutrients available to your plants.